Earthmoving Equipments
KE-14

KE-12.5

KE-10

KE-6

Related Earthmoving Equipments
Agriculture Equipments
Hydraulic Loader on
15 HP Tractor
We offer complete Hydraulic Loader on 15 HP Tractor

Loader Attachment for 15 HP Tractor

Front End Loader for 15 HP Tractor

15 HP Tractor Mounted Front End Loader
Front-End Loader Attachment on 15 HP Tractor
Kishan Equipments

is leading manufacturers & exporters of Hydraulic Loader 15 HP Tractor, Tractor Loaders, Front End Tractor Loaders, Loaders, Front End Loaders, etc.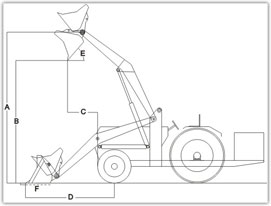 Technical Specification of Bucket
1
Bucket Capacity
0.10 m³
2
Operating Load
170 kg.
3
Bucket Width
1210 mm
Operational Parameters
A
Maximum Pin Ht.
1980 mm
B
Maximum Dumping Ht.
1490 mm
C
Ground Reach At Dumping
800 mm
D
Grund Reach At Loading
1350 mm
E
Bucket Dumping Angle
60°
Need a Hydraulic Loader on 15 HP Tractor Price Quote ?
If you seek a price estimate
click here
to inquire us about Hydraulic Loader on 15 Hp Tractor.