Earthmoving Equipments
KE-14

KE-12.5

KE-10

KE-6

Related Earthmoving Equipments
Agriculture Equipments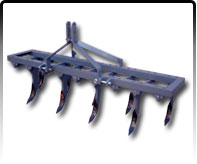 Kishan Equipments

with its high quality products have gain success in establishing the leading manufacturers and exporters of Cultivator.

The Cultivator is designed as a finishing tool for seedbed preparation, weed control, and chemical incorporation. This aerates and conserves the precious topsoil, while balancing chemicals and fertilizers. Generally the soil has been worked by a furrow plough prior to the use of a cultivator. The cultivator will work from 2.5" to 6" deep to prepare a seedbed in one to two passes.

There are nine tines in this tiller mounted in two rows. Each tine is mounted with two strong coil springs, which allow the tine to ride-over obstruction in the soil without the inconvenience of stopping work to clear the obstacle, thus making it suitable for use in stone and root obstructed soil. The weight of this tiller is light more than the other tiller so it can aerate soil to depth of one foot. The tiller eliminates the use of plough. In this tiller 2.3/16" reversible shovels are fitted. The front and rear tines can be spaced as desired for either row crop or general cultivation work because holes in the frame are provided at one inch interval.

Special steel forged Tines & High Tensile Bolts used. This tiller is also available with 7, 11, 13, 15 or 17 tines. Tillers bigger than 11 tines are also available with folding type frame.
Technical Specifications › Cultivator
Overall Length
2080mm
Over Width
620mm
Overall Height
1025mm
Number of Tines
9 Nos.
Thickness of Tines
25mm thick
Shovel size
Three hole hot Forged.
Frame
Fabricated From 60mm x 6mm Angle ( Box Type )
Weight
200 Kg. Approx.
Need a Cultivator Price Quote ?
If you seek a price estimate
click here
to inquire us about Cultivator.