Earthmoving Equipments
KE-14

KE-12.5

KE-10

KE-6

Related Earthmoving Equipments
Agriculture Equipments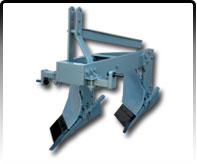 Kishan Equipments

is leading manufacturer & exporter of two furrow plough, reversible plough, two furrow reversible plough and other agriculture implements.

Kishan Two Furrow Plough can handle the toughest ploughing job with outstanding penetration performance. The under frame and unit-to-unit clearance are adequate to cope with trashy conditions. Perfect alignment of the plough beams carrying the Mould Board bottom is maintained by virtue of the frame construction. The Mould Board will retain their mirror finish at all time contributing to well turned furrows. The plough has special wear resistant steel bottoms with bar points for toughest ploughing jobs. Bar point bottom ensures longer life as it can be extended or reversed and re-used till the last possible length.

Technical Specifications › Two Furrow Plough
Overall Length
1450mm
Over Width
980mm
Overall Height
1040mm
Number of Tines
2 Nos.
Disc Plate
8mm Thick
Blade
355mm Long ( 2 Nos. )
Crow bar size
32mm x 32mm x 780mm Long ( 2 Nos).
Tines Size
25 mm
Weight
250 Kg. Approx.
Need a Two Furrow Plough Price Quote ?
If you seek a price estimate
click here
to inquire us about Two Furrow Plough.