Earthmoving Equipments
KE-14

KE-12.5

KE-10

KE-6

Related Earthmoving Equipments
Agriculture Equipments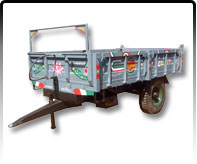 Kishan Equipments

with its high quality products have gain success in establishing the leading manufacturers and exporters of Hydraulic Tractor Trailer, Hydraulic Tractor Trolleys.
2 Wheels Hydraulic Tractor Trailer
Langth of Trailer
3125mm
Width of Trailer
1830mm
Height of doors
500mm
Chassis Details Channel Used Chassis Sized
177mm x 76mm
2510mm x 1000mm
Sub Chassis Channel used
Sub Chassis Size
100mm x 50mm
3050mm x 1000mm
Frame Channel used
Frame Size
75mm x 38mm
3125mm x 1830mm
Bottom plate
6mm Thick
Side door Plate
3mm
Axel
75mm x 75mm ( Thick )
Wheel Plates
8mm Thick
Axel Housing
Heavy ( 8 Holes )
Bearings Size in Axel
32211 and 32215.
Tyre Size
9.00 x 16
Hydraulic Cylinder
Single Cylinder ( 5 Metric Tone Capacity )
Need a 2 Wheels Hydraulic Tractor Trailer Price Quote ?
If you seek a price estimate
click here
to inquire us about 2 Wheels Hydraulic Tractor Trailer.