Earthmoving Equipments
KE-14

KE-12.5

KE-10

KE-6

Related Earthmoving Equipments
Agriculture Equipments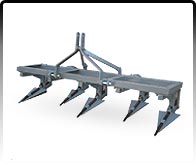 Kishan Equipments

with its high quality products have gain success in establishing the leading manufacturers and exporters of Premium Quality Soil Digger.






Technical Specifications › Soil Digger
Length
86.5"
Width
40"
Height
41.5"
Weight
230 Kgs. (Approx.)
Need a Soil Digger Price Quote ?
If you seek a price estimate
click here
to inquire us about Soil Digger.